Hellas Launches Kickabout – A Place Where Kids Want To Play
Austin, TX (November 21, 2016)
Kids are rushing outside to play on the Kickabout™ field, a new customizable playing surface from Hellas Construction that allows students to safely participate in a wide variety of sports or play in any weather. The kids can't get enough of this fun-packed playground and mini-sports field that combines intelligent design and the best synthetic turf in the industry.
In a time when educators are looking for ways to keep kids moving and encourage 60 minutes of play a day, Kickabout provides a solution to the dreaded bad weather days that keep the kids from going outside due to mud, water puddles, and slippery surfaces. Kickabout play surfaces make good days even more fun because kids can run and play without tripping over rocks, holes, or tall grass and weeds. Physical activity is an essential component of a healthy lifestyle for everyone, especially children. Today's youth spend an average of 7.5 hours consuming media daily- watching TV, listening to music, surfing the Web, social networking, playing video games, and decreasingly less time engaging in physical activity.
Kickabout provides a safe, reliable surface that can be customized with games or sports that kids want to play. Kickabout brings together a variety of sport or game options like soccer, funnel ball, hopscotch, tetherball, and four square and customizes it into one fun-packed playground and mini-sports field that can be used year-round. The Kickabout play surface can be built from 2,000 to 20,000 sq. ft. and fits into any existing landscape. Hellas uses its exclusive Matrix® Turf or Grasso® Sportscape, a simple drainage system, and either organic infill or a pea gravel infill.
Texas school districts such as Little Elm ISD, Anna ISD, and Frisco ISD, along with private schools like International School of Texas in Austin, have already had Kickabout play surfaces installed and are reaping the benefits.
Kickabout elevates the level of any fitness or wellness program, while exciting children and driving them to be more active everyday. Hellas provides this flexible and affordable surface alternative for any schools, daycares, churches or activity centers with limited space or finances. The Kickabout playing surface is sure to ignite physical education curriculums, making it a great fitness and wellness solution.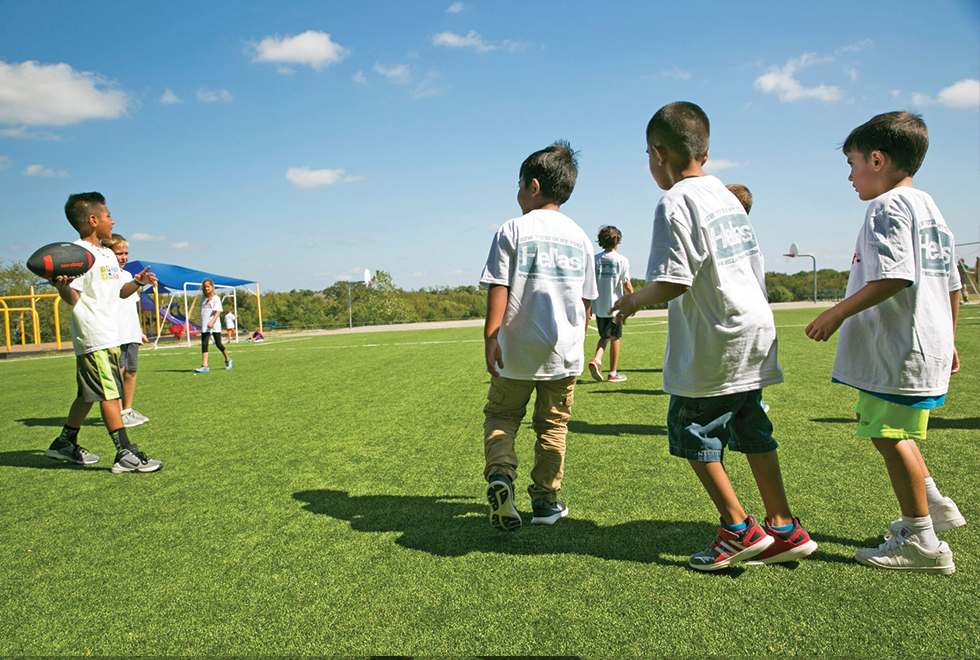 Kids playing football at Sue E. Rattan Elementary on Anna ISD's new Kickabout field built by Hellas Construction.